All Deluges shipped from today will feature a new OLED display.
Purchase, as always, through our site: https://synthstrom.com/product/deluge/
If any existing Deluge owner wants to join us in this new world of multiple lines of text and more than four letters on a screen at once, we made it so you can!
To reflect the cost and development associated with the new screen and the rising manufacturing costs in the synth industry, we'll be raising the price of the Deluge incrementally over the next 12 months.
DELUGE PRICE INCREASE & NEW OLED SCREEN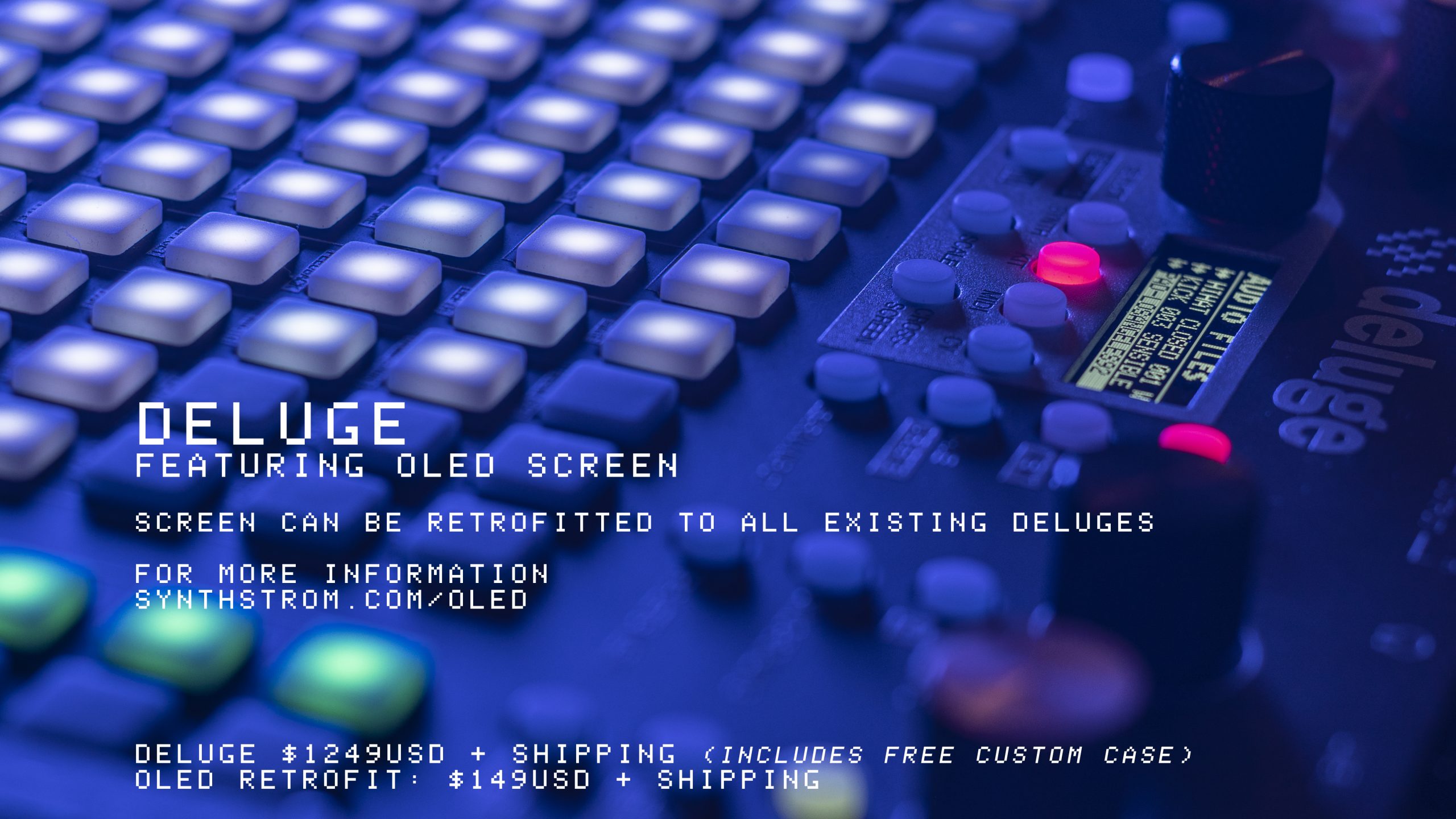 With many synth products unable to be made due to chip shortages and prices rising due to numerous costs across the board, most will be aware it's been a pretty tough few years for the synth manufacturing industry.
Though we hand-assemble and build Deluges in New Zealand, we haven't escaped these effects and over the past year have been absorbing rising shipping costs, the effects of inflation and crazy price rises on parts and components.
We've known for a while that we'd have to raise the price of the Deluge, but affordability is very important to us and we wanted to add value to it as we did so.
A very deliberate design choice, the Deluge has, till now, featured a rudimentary 7-segment display. Rohan had always seen the Deluge as an instrument first, a tactile tool that relied on your ears, was intuitive and had its user spending time making music, not diving through menu after menu.
We've always acknowledged that the screen does have shortcomings especially in regards to the management of large sample collections, but the trade-off at encouraging users to resort to listening and experimenting is why the Deluge has been such a radical and inspirational tool for hordes of people.
While there is still no 'need' for a screen showing more complexity, we realise the time to introduce one is now. With the Deluge being a far more complex beast than we ever anticipated, Rohan has worked out how to incorporate an OLED screen into the current hardware, not only for all future sales, but for any existing user who wishes to update their Deluge too. More details on that below.
We'll be raising the price of the Deluge incrementally over the next 9 months.
Deluge by Synthstrom Audible (includes free custom case)
Sept 9th, 2022: $1249USD + shipping
From Jan 1, 2023: $1329USD+shipping
From April 1, 2023: $1399USD + shipping
Purchase as usual from: https://synthstrom.com/product/deluge/
RETROFITTING YOUR DELUGE WITH AN OLED SCREEN
The retrofit is a delicate upgrade requiring chip updates, specialist hardware, an additional PCB to be added, the old screen removed, and of course the new OLED screen mounted. Due to the specialised process, users (even those with advanced skills) will not be able to upgrade themselves, but for just $149USD plus shipping and other associated costs (see below) we can take care of it for you (from November 2022).
Details and deposits for retrofits here: https://synthstrom.com/product/oled-retrofit-deposit/
So your Deluge spends as little time out of your hands as possible, we'll reach out to you when it's your time and start the process 🙂 You'll be welcome to cancel your deposit and receive a full refund at any stage.