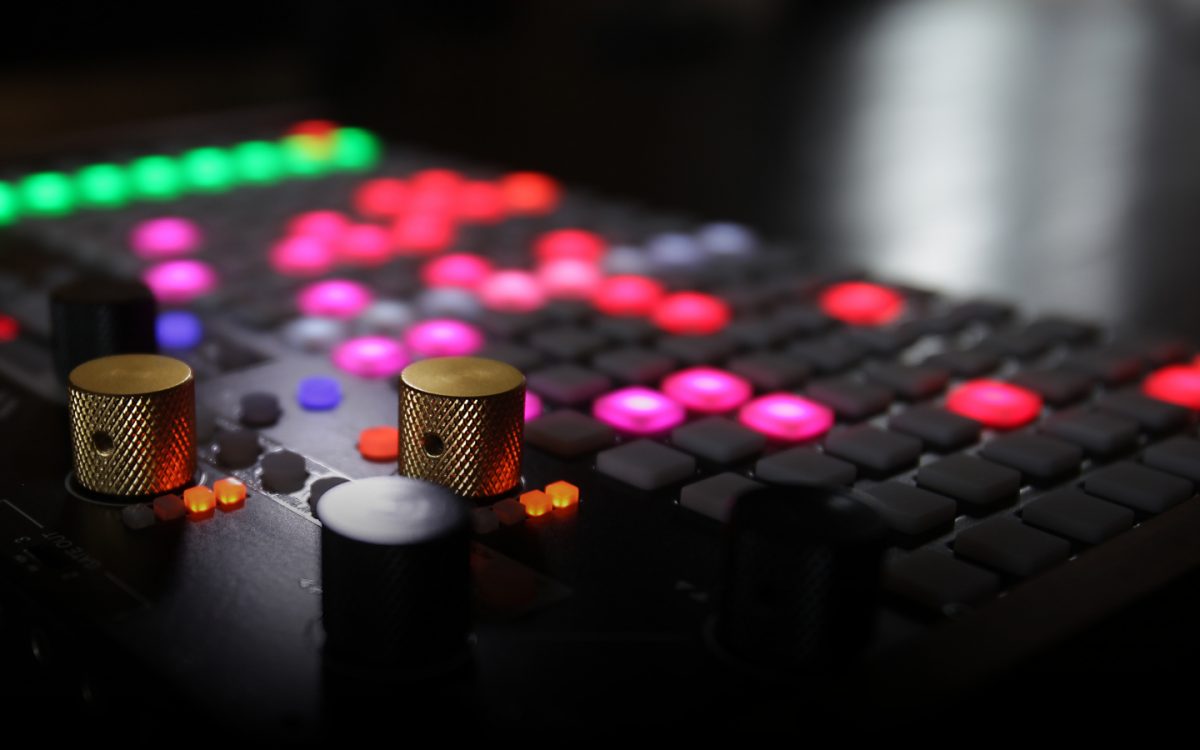 Powerful and robust synthesizer, sampler & sequencer in a portable package
Deluge is our flagship product. Three years in the making, it is an all-in-one, stand-alone, portable synthesizer, sequencer and sampler designed for the creation, performance and improvisation of electronic music.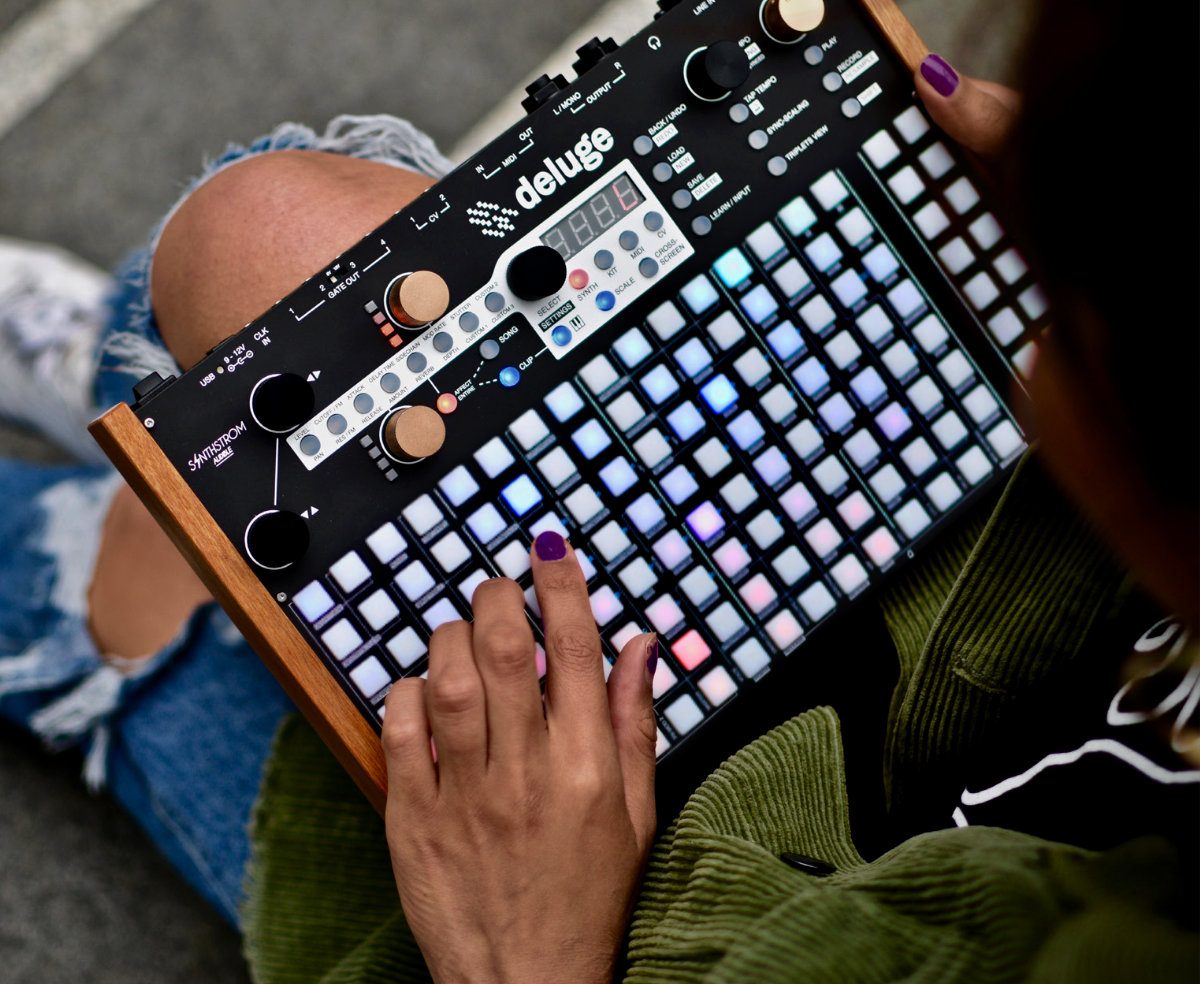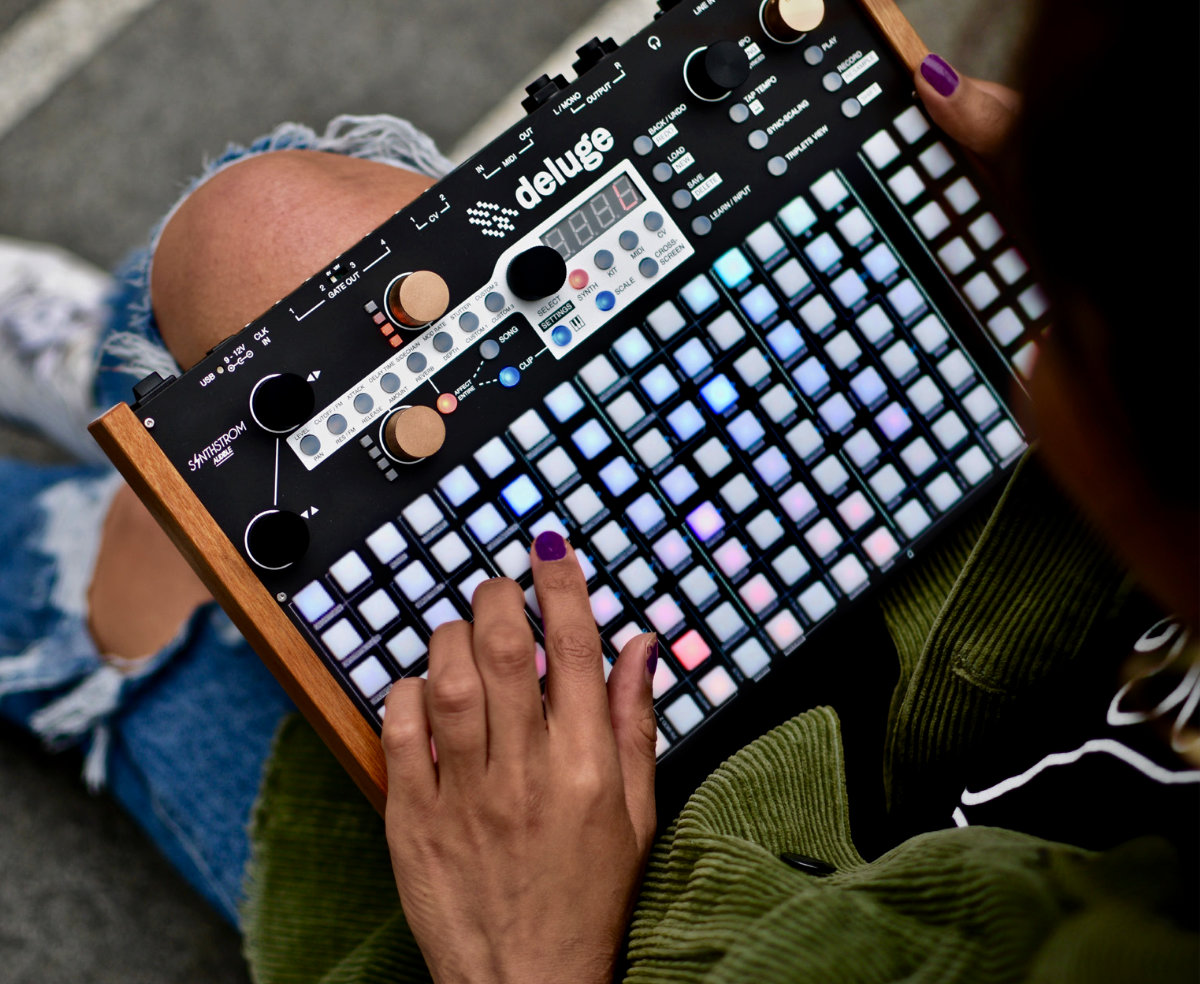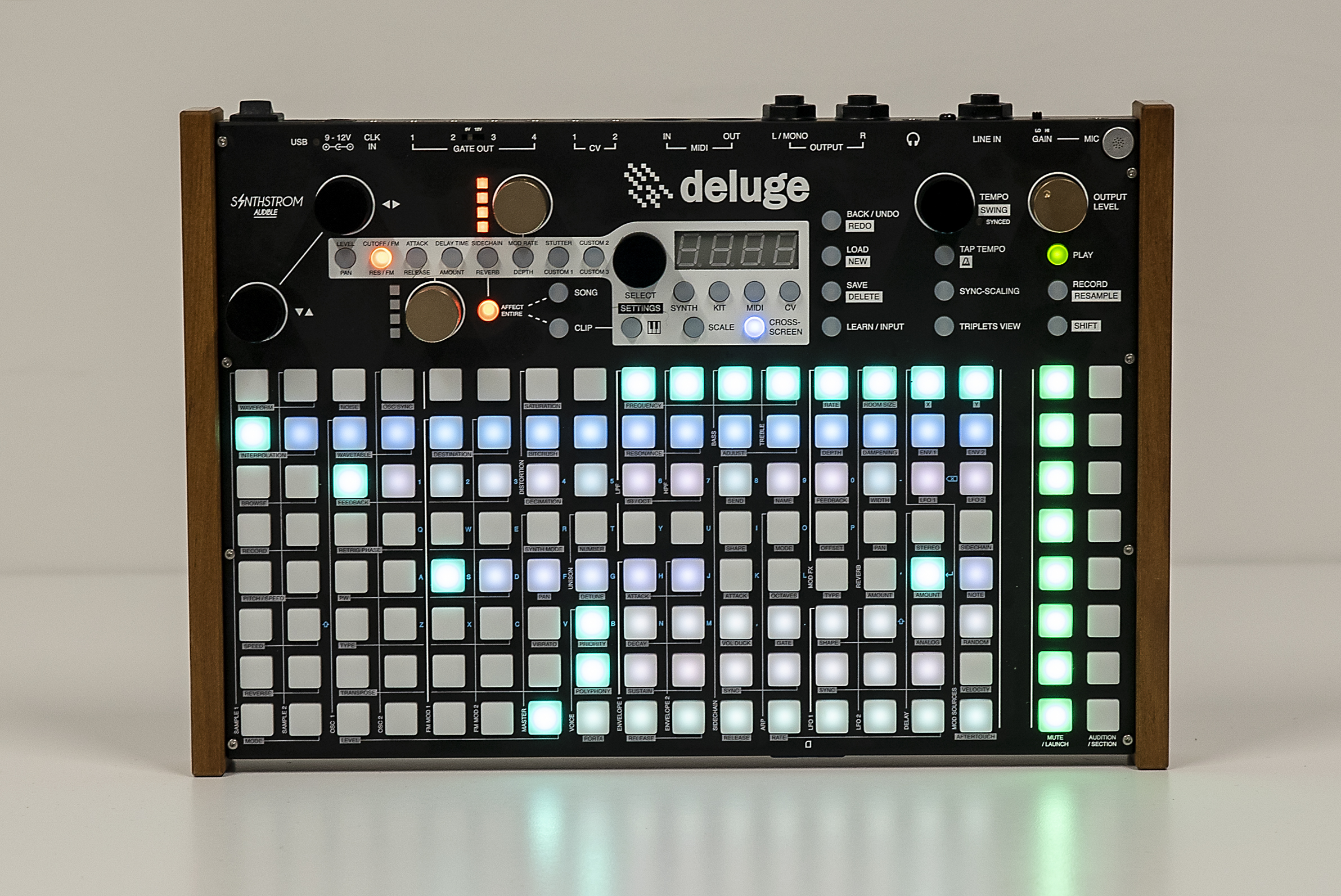 NOTE: Some shipments (outside of New Zealand) may incur additional tax and import charges. These charges are the buyer's responsibility. You'll be contacted by DHL after we ship if applicable.
* All Deluges ship with the 3.0 shortcut system printed direct on the top panel.
* A PDF of the manual/producer guide is included on your SD card, if you'd like a printed version, you can purchase here
Other burning questions are answered over on our F.A.Q
SYNTHESIZER
Full-featured internal synthesizer engine (subtractive and FM)
Polyphony limited only by CPU. Up to 64 synth voices may play simultaneously
Live adjustment of synth and effect parameters with two endless-turn encoders with LED level-meters

Easy buttons to select the functions these control

Parameter automation recording
Arpeggiator
Dedicated volume and tempo knobs
LFOs and envelopes on each synth / sample. Highly customizable modulation matrix
Synthesizer engine features LPF / HPF, FM, portamento, oscillator sync, ring modulation, unison detune, and more
Four basic digital waveforms, two analog-modeled waveforms, or select any WAV file from SD card
12dB/oct and 24dB/oct filters, with optional filter drive mode
FX including delay, reverb, chorus, flanger, phaser, bitcrusher, sidechain effect, live stutter, and more
Keyboard mode, where the pads become a live instrument on a 2D grid
Preset or custom scales, or chromatic mode
Live processing of the audio input including polyphonic pitch shifting (according to sequenced notes), filters, and all FX
SEQUENCER
Piano-roll-style sequencing on 128 full RGB pads (16×8) with scrolling and zooming
Launch, mute and interact with tracks live
Arranger view, to sequence your instrument parts into a longer composition, and work with audio clips similarly to a DAW
Sequencing limited only by device RAM (over 2 million notes)
Simultaneously output separate sequences to all 16 MIDI channels, 2 CV / gate channels and 2 additional gate outputs, in addition to internal synthesizers / samples (limited only by CPU)
CC control and sequencing on all 16 MIDI channels
Probability and iteration based step / note conditions
Undo / redo note and parameter automation editing and recording. Number of undo steps limited only by RAM
Advanced syncing capabilities. Non-standard time signatures supported, polymetric
Adjustable swing
Horizontal pattern shift
MIDI program change and bank select
SAMPLER
Streams all samples directly from SD card, without limitations based on RAM size
Up 90 unaffected sample voices may play simultaneously
Multisampling. Fast folder import with automatic pitch detection
Time-stretching and pitch-shifting
High quality sample interpolation and rate conversion via 16-point windowed sinc
Waveform view on main pads, with scrolling, zooming, and loop point editing
Same filters, modulation matrix and FX as synth engine
Resampling
Slicer feature for cutting a sample into evenly sized slices
AUDIO CLIPS AND LOOPING
Live looping of audio and instrument / MIDI clips, including easy overdubbing / layering, and automatic tempo setting
Audio clip live looping includes option to record additional audio "margins" either side of loop (from before you even pressed record), to allow a brief crossfade to eliminate click at loop point
CONNECTIVITY
Two ¼" line outputs, and 3.5mm headphone output
3.5mm mic input, ¼" line input, and built-in microphone
2x CV outputs. 0 – 10V, individually configurable to between 0.01 and 2.00 volts per octave, or to hertz-per-volt
4x gate / trigger outputs individually configurable to v-trig or s-trig, with shared voltage switchable between 5V and 12V

Trigger clock output, configurable up to 192 PPQN
Trigger clock input, also with adjustable PPQN

MIDI input and output via hardware connectors or USB. Syncing via MIDI beat clock as master or slave
Powered via USB B (cable included) or 9 – 12V centre-negative (pedal-style) power supply (500mA) (not included)
User-upgradeable firmware – development is ongoing at Synthstrom Audible
Internal speaker
Rechargeable Li-ion battery (6+ hours of operation)
1 x SD slot (1x 32GB V10-speed SD card supplied)
DIMENSIONS
Dimensions: 305mm x  208mm x 46mm (12 x 8.2 x 1.8 inches)
Weight: 1.5kg
OVERVIEW
BASIC WORKFLOW TUTORIAL
You can view individual customer reviews on Facebook
Some of our users have been uploading reviews, tutorials and jams to YouTube,  you can view some in a playlist below: