'Release' World Tour 2020
All dates from March 20th currently postponed due to COVID-19. All tickets remain valid for rescheduled dates. Details announced in near future.
To celebrate the release of 'Release' we're coming to you!
We're hosting a bunch of parties around the world which will feature performances by artists on the collection and other highlighted performances.
Click on one of the links below the show of your choice to find out details, see the event on Facebook, discuss on our forums or pick up tickets/RSVP.
At select events, highlighted with an *, there will be an opportunity to attend a limited-spot special users-only meetup before the event which will also include a conversation style discussion with project manager Ian and inventor/engineer Rohan (via satellite).
If you can't make it to the tour and wish to just order the vinyl, you can do so here.
All ticket and vinyl sales are processed by A LOW HUM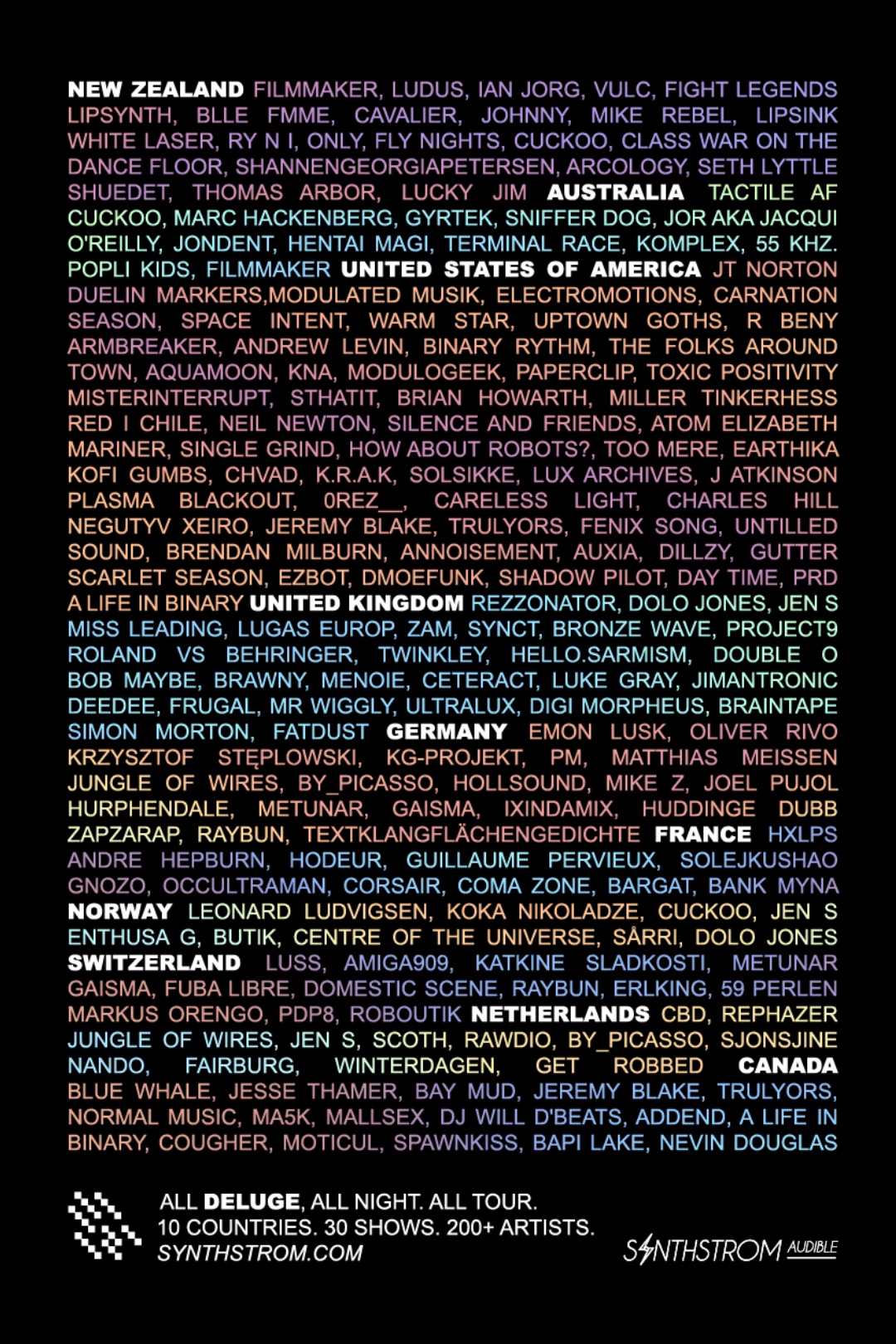 NEW ZEALAND
27.2 MUSA Lounge, Palmerston North
(Web Event) (Facebook Event) (Forums) (Tickets)

28.2 Wunderbar, Lyttelton
(Web Event) (Facebook Event) (Forums) (Tickets)

29.2 Crown Hotel, Dunedin
(Web Event) (Facebook Event) (Forums) (Tickets)

4.3 Voodoo Lounge, Tauranga
(Web Event) (Facebook Event) (Forums) (Tickets)

5.4 Skinroom, Hamilton
(Web Event) (Facebook Event) (Forums) (Tickets)

6.3 BackRoom, Auckland
(Web Event) (Facebook Event) (Forums) (Tickets)

7.3 Valhalla, Wellington
(Web Event) (Facebook Event) (Forums) (Tickets)
11.3 Museum of Old Normal, – Whanganui
(Web Event) (Facebook Event) (Forums) (Tickets)
AUSTRALIA
12.3 Backbone, Brisbane
(Web Event) (Facebook Event) (Forums) (Tickets)

13.3 PBC, Sydney
(Web Event) (Facebook Event) (Forums) (Tickets)

14.3 Gasometer, Melbourne
(Web Event) (Facebook Event) (Forums) (Tickets)
USA
20.3 Switched On, Austin, TX
(Web Event) (Facebook Event) (Forums) (Tickets)

21.3 The Crystal Cavern, Oakland, CA *
(Web Event) (Facebook Event) (Forums) (Tickets)

28.3 CoAxial, Los Angeles, CA *
(Web Event) (Facebook Event) (Forums) (Tickets)

15.5 H0l0, New York City, NY *
(Web Event) (Facebook Event) (Forums) (Tickets)

21.5 Moe's Tavern, Chicago, IL *
(Web Event) (Facebook Event) (Forums) (Tickets)

30.5 Tim's Tavern, Seattle, WA *
(Web Event) (Facebook Event) (Forums) (Tickets)
UNITED KINGDOM (Tickets)
15.4 Bloc+, Glasgow
(Web Event) (Facebook Event) (Forums) (Tickets)

17.4 Deaf Institute, Manchester *
(Web Event) (Facebook Event) (Forums) (Tickets)

18.4 Hope & Anchor, London *
(Web Event) (Facebook Event) (Forums) (Tickets)
22.4 Maze, Berlin, Germany *
(Web Event) (Facebook Event) (Forums) (Tickets)

28.4 Cafe de Paris, Paris, France *
(Web Event) (Facebook Event) (Forums) (Tickets)

30.4 UMBO, Zurich, Switzerland *
(Web Event) (Facebook Event) (Forums) (Tickets)

1.5 Vondelbunker, Amsterdam, Netherlands *
(Web Event) (Facebook Event) (Forums) (Tickets)

8.5 Lucky Records, Reykjavik, Iceland
(Web Event) (Facebook Event) (Forums) (Tickets)

2.5 MIR, Oslo, Norway *
(Web Event) (Facebook Event) (Forums) (Tickets)
22.5 The Cameron House, Toronto *
(Web Event) (Facebook Event) (Forums) (Tickets)

23.5 Barfly, Montreal *
(Web Event) (Facebook Event) (Forums) (Tickets)

29.5 China Cloud Studios, Vancouver *
(Web Event) (Facebook Event) (Forums) (Tickets)
Artwork by Matt Limmer